The past few days have been pretty interesting. I flew down south for some R&R from the city life and to see what it would be like working with some large animals. Interesting stuff indeed…
Never been in this area before. But it's peaceful. Cold, but peaceful.
When I first flew down to this area I knew it would be a great, new experience for me. Just for my flight down here I had to go outside in the freezing rain onto the tarmac and board this tiny little plane for my 20 minute connecting flight. I was seated next to a heavily-built black woman, which was not surprising for me, but just a little inconvenient since the seats were so incredibly tiny and I didn't have much space for myself.
I'm working with a few people here and they are all very nice and accommodating. I remember stopping by the grocery store here and walking down the aisle with my cart and a employee was putting stuff on the shelf. As I passed by he said, "Good afternoon sir! How are you today?"
I was caught off guard.
I guess my time in New York has made me conscientious of behavior like that. I mean in New York, NOBODY ever greets you like that. Any sort of friendliness is usually accompanied by a thought of aversion and defensiveness. "Is that person crazy?" or "What does he/she plan to do? He/she must be up to no good." But no, here people are genuinely friendly. At least the people I've met so far.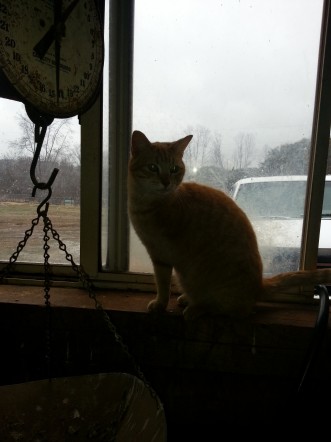 I've spent the last few days here and I have to say it has been pretty wonderful. Being in this facility, feeding the animals here every morning and walking with my boots and coveralls to do some work is very uplifting. The calm, clean air and the fresh well water in the cabin I'm staying in are just part of the icing on the cake. I will only be here a little while, but the peace and quiet and the temperament of the animals and people here just make me want to stay a little bit longer.
Also, I haven't had such a peaceful night of rest like the last couple of nights in such a long time. It's been long overdue.
While everything is very country-like, there is still Wi-Fi here so I can feel reconnected to the world. Actually, while I've been here I haven't really wanted to use the laptop. Actually, I just turned it on yesterday and I've already been here a couple of days. That's surprising for me, but I'm glad to feel disconnected for a bit from the technological world. The thing is, this place seems so wonderful to me that I had to write a post about it to keep it in my memory.
So I will just be enjoying the next couple of days. And I will go to sleep soon. And it's only 10:22pm. Look at that.